"We have been working with Ben for many years to produce digital and offline marketing collateral for Oz Jet Boating. We have a fun and cheeky brand and Ben has done an exceptional job of working with us to develop our brand and position our product as the leader in the market. We always throw quirky and interesting projects at Ben and he consistently delivers outstanding results including interactive and bespoke websites, cartoons and graphics that we use across print media and online and even the artwork for jewellery and logos for our merchandise. Ben is efficient, always friendly and exceptionally creative. He always goes out of his way to ensure we are happy and meet deadlines and we highly recommend his services."
 Nikki Giumelli (Director of Sales and Marketing) and Matt Hilder (General Manager) Oz Jet Boating
Since 2010 I have redesigned the Oz Jet Boating website twice. Initially the redesign was needed to produce a website that reflected the energy and excitement of the jet boating experience as well as focusing on the amazing photos and videos that the team were busy creating.
The second redesign in 2017 was primarily focused on delivering a responsive website to capitalize on the increasing number of customers who were being directed to book rides from their smart phones. The new site also featured the Wordpress CMS.​​​​​​​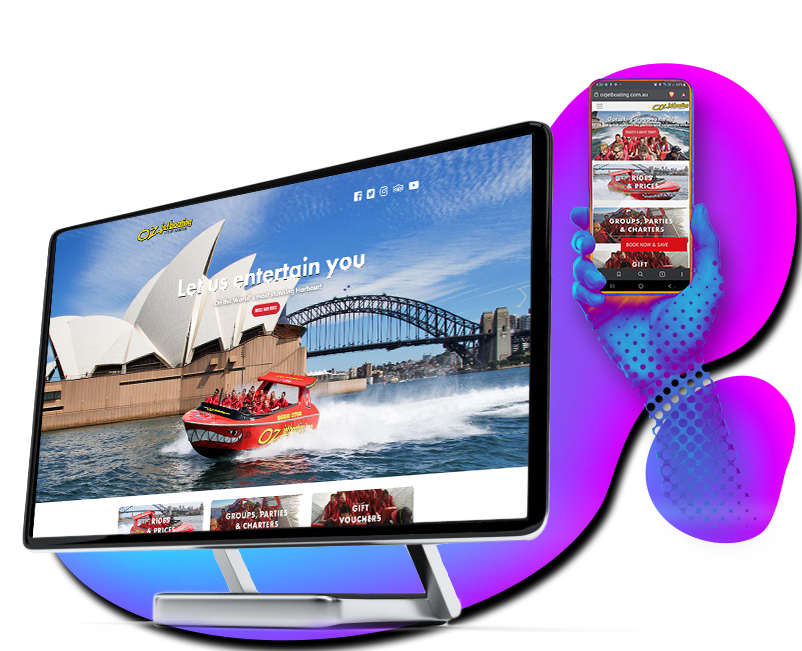 Located in Circular Quay, Sydney, Oz Jet Boating's customer-base ranges from casual walk-ups on their way to see the Opera House or Harbour Bridge, to targeted campaigns with tourism agents offering sightseeing package deals to their international customers. This involves a wide-range of marketing and promotional collateral including flyers and brochures, posters, cinema screens and merchandise.